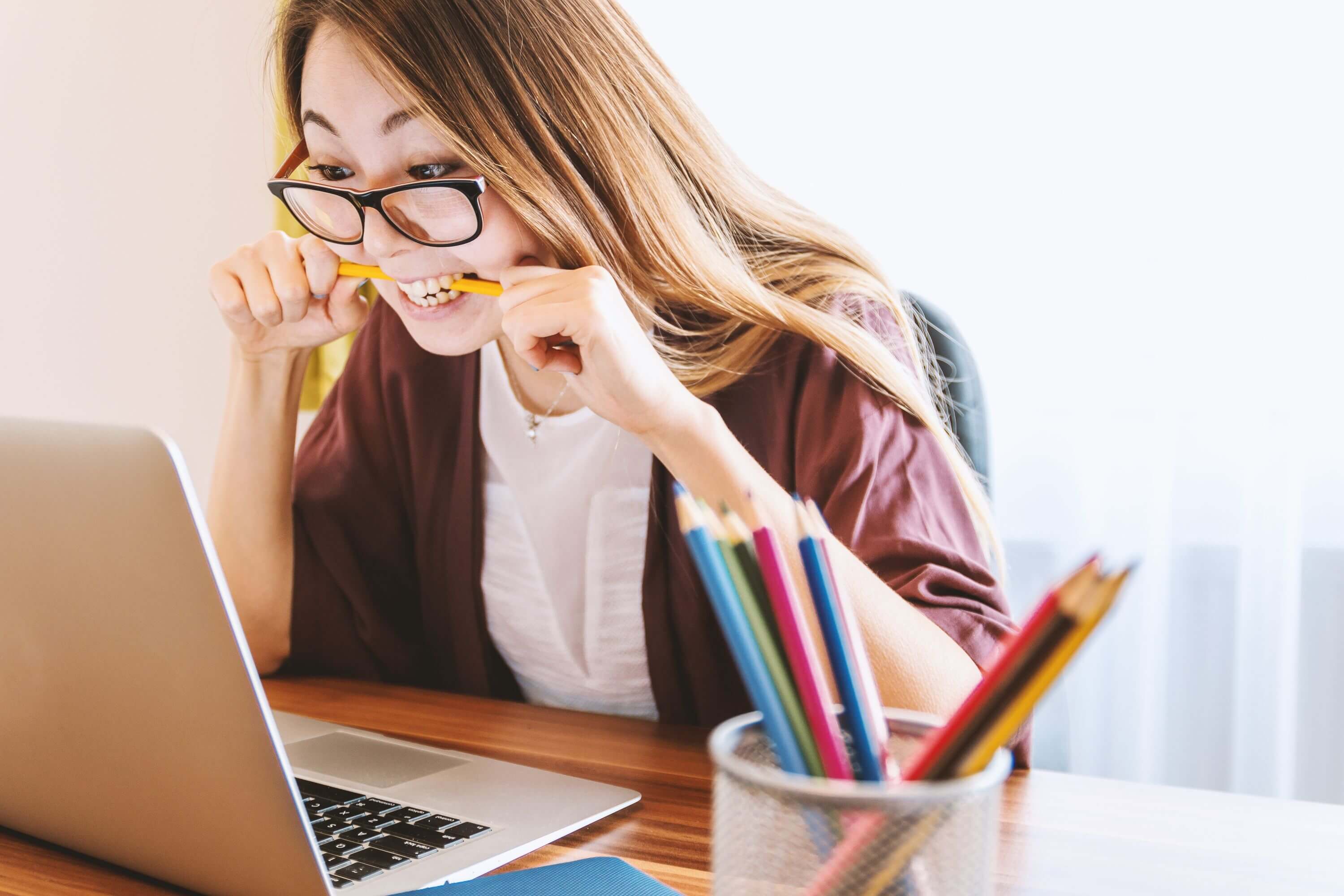 As a homeschool parent, you have the unique opportunity to be your student's guidance counselor. Lucky you! While the task can sometimes be stressful and overwhelming, I'm certain that, when you hit the submit button, you'll be grateful for the unique opportunity you had to showcase your homeschooler's story. I'm not sure why the following information is not easy to find anywhere else. No worries, though. I got your back!
Be Informed
​Make sure you know what each college wants from a homeschooler. Call. Check their website. See if there is a specified homeschool admissions counselor at each school. Each institution is unique in what they want to see and how they prefer to see it.
Sign Up for Practice Account in Common App
Become familiar with the Common Application. You will then view the process from an applicant's perspective. Within your Common App Practice Account, assign yourself as Counselor and Teacher Recommender, using different email addresses, if you prefer. This allows you to understand the process from those perspectives.
Have your Student Invite you as Counselor from Their Account
In the Education Section, the applicant must select "Homeschooled" as their current secondary school; this will be located at the bottom of the drop-box. Also in the Education Section, they will add your name/title. To officially invite you, however, they need to go to the FERPA/Recommenders section in "My Colleges." They MUST release authorization before inviting you. Once they click on "Invite Recommenders" a box will open. Be sure they select you as Counselor, include your email, and click "Send Invite." Once you receive the email, you will have access to the Counselor Section.
Choose Answers That Best Reflect Your Homeschool
The following responses are suggestions. If they don't reflect your homeschool, that's fine! Most answers can be n/a if you choose. In fact, if a question doesn't have a red asterisk, you are not required to answer it.
COUNSELOR PROFILE SECTION
Personal Details:
Counselor title: Homeschool supervisor, educational facilitator, homeschool counselor or teacher, home-based instructor
School Details:
School Lookup: Homeschooled (scroll to bottom or search)
School Profile:
Graduating Class size: 1
100% to 4-year schools
Which of the following courses are offered at your school AP/IB/Honors?
Remember that courses can only be designated as AP if officially approved by College Board. Match the number of classes offered to the maximum number of classes a student can take. List DE (dual enrollment) classes and university classes as Honors if you have done so on the transcript. Make sure this list matches the transcript!
Are classes taken on a block schedule?
A block schedule is one that offers semester-long classes rather than year-long classes. Many homeschoolers have a combination, in which case you would answer Yes. The Common App will then expect to see final grades by the end of each semester.
Do you complete applicant's academic ratings?
The best option is No. Then your homeschooler won't have to answer ambiguous questions in the school report section of their own application. If you select yes, this will prompt you to compare your homeschooler to others in the graduating class, which is not applicable in your situation. If you do choose to answer yes, the questions in the School report should be answered "no basis."
Upload your School Profile
Class Rank:
How do you report class rank? Exact or None.
If you choose None, you will not be prompted to answer more questions.
If you choose Exact, you will be prompted to answer whether or not the ranking is based on a weighted or unweighted GPA. If you weight grades, you would choose accordingly. You will then enter the years on which the ranking is based. If you have homeschooled all four years of high school, you will enter freshman year to senior year.
Transcript:
Please indicate the most recent grades included on the transcript accompanying this form. Most likely, you will be choosing Final Junior Year Grades.
Certifications:
Transcript affirmation?
Check Box
Communication?
Check Box
WORKSPACE SECTION
1. Click on Student's Name to access Workspace
2. You will now be in the School Report section for your homeschooler
SCHOOL REPORT
Class Rank:
How do you report class rank?
If you select None, there will be no more questions in this section.
If you select Exact, the applicant's class rank is 1.
How many additional students share this rank? 0
Choose weighted or unweighted and select dates.
GPA:
Do you report GPA (Grade Point Average)?
Yes
Cumulative GPA
Cumulative through junior year
GPA Scale
There is some disagreement over this when using weighted grades. I eventually chose to do what my local district does — select 4.0, even when Honors and AP classes are given extra weight.
Weighted or unweighted. Choose accordingly.
Note: Weighted GPA is sometimes used for scholarships, so you may want to choose to weight GPA on your transcript.
School's Passing Mark.
I love this question! Most homeschoolers I know immediately say 80%. I usually recommend 70%. :) Do what feels right.
Highest Grade/GPA in class.
You guessed it! Enter your homeschooler's GPA.
Curriculum:
In comparison with other college preparatory students at your school, the applicant's course selection is Most Demanding.
Transcripts:
Please indicate number of official transcripts.
This is where you will upload your Transcript and Course Descriptions. You may also choose to upload a Reading List. There are four available slots. Select the appropriate number.
You will NOT upload a transcript from any DE or university classes here. They should be sent directly to the schools to which your homeschooler is applying or they are not considered official.
There is also no reason to upload other transcripts or reports from online course providers. As long as those grades are reported on your official homeschool transcript, there is no need to overwhelm admissions officers!
Transcript affirmation: Check Box
Please indicate the most recent grades included on the transcript accompanying this form. Usually, this will be final junior year grades or second quarter senior year grdes.
I recommend this student enthusiastically.
Of course.
Homeschool:
Info on Homeschool Experience:
Copy and paste info from School Profile or write, "See School Profile."
Grading Scale and Evaluation Methods:
Depending on where this information is within your documents, copy and paste info or write, "See School Profile" or "See Course Descriptions" or "See Transcript."
Courses from Distance Learning:
Copy and paste info from Course Descriptions or write, "See Course Descriptions."
Member of homeschool association?
This is asking if your homeschooler will be receiving a diploma from a homeschool association or diploma program.
Click Save and then — on the left-hand side — click on Counselor Recommendation
COUNSELOR RECOMMENDATION: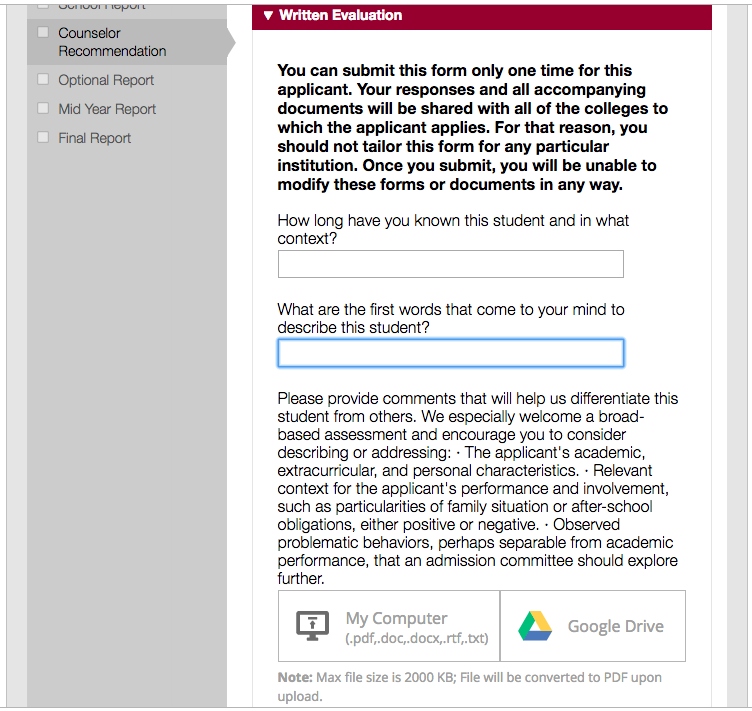 Upload Counselor Recommendation.
Recommend Enthusiastically
THREE OTHER REPORTS YOU MUST KNOW ABOUT
Optional Report:
This is typically not submitted unless you need to update colleges with additional information. If your homeschooler is applying Early Action or Early Decision and their first quarter grades are outstanding, take the opportunity to submit those grades to admissions. It may make a difference!
You will be required to submit reports two more times throughout your homeschooler's senior year.
Mid Year Report:
Submit this immediately after getting midyear grades. Update your transcript and submit this report by the end of January or February. Check out my detailed post on the importance of the Mid-Year Report.
Final Report:
Submit this after your homeschooler has accepted admission at a particular school! Once again, update your transcript and submit this by the end of June.
You are responsible for remembering to make these submissions! Most schools will not remind you, so take a moment to put this on your calendar now.
There you have it!
Just remember to answer in a way that feels good to you. Some of these questions seem downright silly from a homeschooler's perspective. But don't worry! Admissions officers will be viewing your homeschooler's application from a unique perspective. And that's a good thing!
Get your 2019 Fearless Homeschoolers Timeline!

Grab your FREE Guide to Homeschool Transcripts!

And Join the Fearless Homeschoolers Facebook Group where we navigate high school and college admissions together!