Back to all posts
How to Write a Compelling College Application Essay as a Homeschooler
There are more applicants than ever, making acceptance more difficult than ever.
With schools like University of Pennsylvania, Swarthmore, and Bucknell spending only 4 minutes total on each application, it is imperative that your application pack an immediate punch.
Your Personal Statement is the perfect opportunity to set yourself apart in a pool of stat-driven students, who tend to look alike.
I know what you're thinking. How do I begin?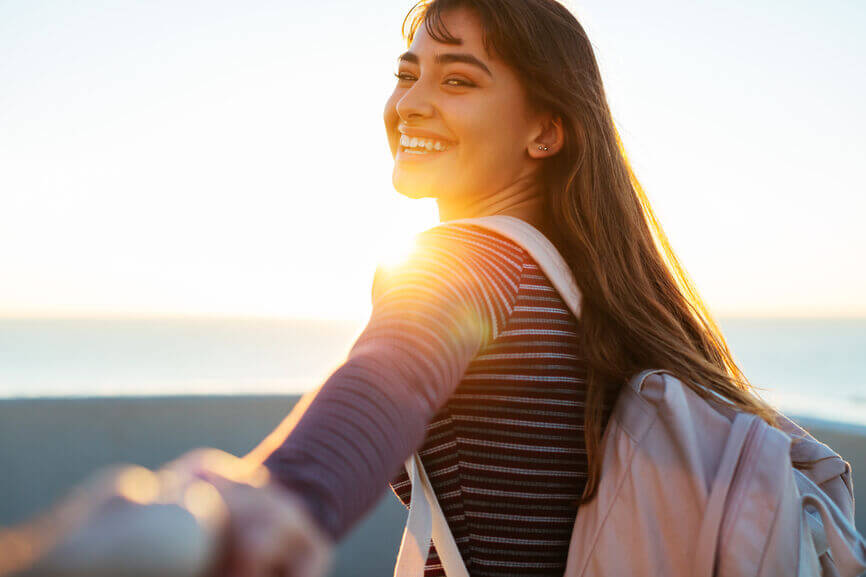 Breathe life into your homeschool college application with the perfect essay topic.
Give Yourself Time
Be patient with yourself. This is a soul-searching process. By the time you complete the final draft, you should not only delight in how you see yourself, but you should also delight the reader.
However, this is not a quick and painless journey. You will feel uncomfortable and vulnerable. That's okay. The more transparent you are in your essays, the easier it is for the admissions committee to see that you are a good match for their institution.
Remember, this is one of the most important essays that you'll ever write. And here's the good news! There are no time limits. This isn't an AP or SAT or class-assigned essay. You have the opportunity to start as early as you'd like!
Consider the Big Picture
Think about the Common Application as a puzzle. When Admissions Officers are looking through your application, they are trying to piece together who you are, and they don't have much time to do it. So collect all of your application pieces in one spot - write it out, print it out, cut it out. Literally put the pieces of your life, your application together.
As a whole, does it reveal all of you?
What does your activity list say about you?
What will your supplements and Why Us essays say about you?
What does your transcript say about you?
Let me explain. Your Common App Essay should reveal "you" in a way that can be found nowhere else in the application. Be strategic about what you want your application to say.
When all of those puzzle pieces are put together, is it being said, quickly, with impact?
Related:How to Boost Your Homeschooler's College Chances
Do not worry about choosing the prompt first! The prompts are broad enough that your topic will fit in with any of them.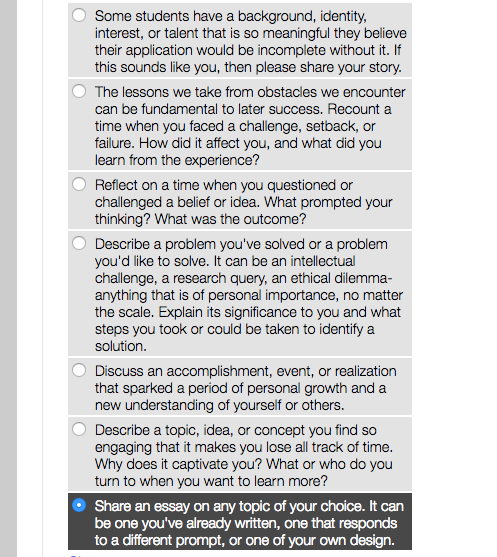 Brainstorm and Connect Themes
Are you struggling to find that perfect topic? I feel you. Below find a strategy that works to get those creative juices bubbling.
Here's the deal. You must give yourself the headspace to do this. If you are authentically engaged in this process, not only will you see ideas more clearly, but you will see yourself more clearly.
Take a week - at least a few hours! - to brainstorm themes that are woven in your life story.
What events, challenges, stories, objects, or daily routines best reflect who you are?
How do these stories define how you look at life, other people, and yourself?
Most importantly…why is this significant?
Which themes seem to keep emerging?
Which themes/values/character traits do you want to convey in your application?
Which events, challenges, stories, or objects display those themes?
Don't cheat yourself and spend only 30 minutes on this process. Let the story of your life and who you are sink in. Spend a week (or two or three) reflecting and embracing all of the bits and pieces that made you who you are today. How do they shape who you want to be in the future? Write them down, outline them, draw them, discuss them.
Writer's block? Note to self:
"No one ever gets talker's block" – Seth Godin
Talk things out. Write the way you talk.
​
Write at least 10 short, positive phrases that are associated with who you are.
These can be quirks, character traits, funny stories. Here are some examples:
I am brave.
I can wiggle my ears.
I wear the same hat every day.
People laugh at my laugh.
I fainted while watching Macbeth in class.
My middle name is Woodruff.
I am fiercely loyal.
You get the picture. Can any of those phrases connect with each other? Can they connect with the stories or themes from above?
Now write. And write recklessly for another few hours (not in one chunk, of course!)
Ask yourself thoughtful, intelligent questions about each connection, each evolving theme. Then write some more. When you are finished, choose the 3-5 topics that you like most. Share them with friends and family who will challenge you and help you narrow it down. Your topic should reflect an important piece of who you are…something that no one else, but you, could have written.
It's a messy process, I know! Brainstorming and free-writing seem disorganized and ineffective. But it is exactly the process that brings to the surface the story within your story.
Homeschooling As a Topic
By now, you probably know why homeschooling, in general, isn't a great topic. It's mentioned in the application already - in the School Profile, the Course Descriptions, the Counselor Recommendation letter. Maybe you've also mentioned homeschooling in a supplemental essay or "additional information" box.
It doesn't mean your homeschool experience cannot be woven into the essay to elaborate on something else. But as a general topic, explaining that homeschooling has allowed you to take ownership of your education? Nah. That piece of you has already been covered.
But Remember This.
Any topic can be remarkable and memorable, as long as it isn't cliched and generalized in a way that any other homeschooler or athlete or service-trip goer can write.
The following topics are typically a no-go. Be careful if you choose one of them. Be focused and unique. Avoid telling the reader that you learned the value of teamwork, even though your baseball team lost the championship. Avoid claiming that you learned more from the disadvantaged than they ever learned from you.
Dig deeper. See smaller. Memorialize the moments.
Extra-curricular activities
Sports
Mental Health Issues
Controversial topics
Service trips
Vacations
Camps
Death
Divorce
Now it's time to write!
Be honest. Be authentic. Be likable. Be vulnerable. The reader wants to be moved.
Isn't that what happens when you read a great piece of writing? You become different in that moment; you come to know and like the writer so much that you are changed because of it.
Your essay doesn't need to be filled with great obstacles. It does, however, need to be filled with a great moment. Seize the moment that reveals the true you. The one you wish everyone knew. The one that the admissions committee would like to know.
TIP: The first sentence should grab the reader! Jump right into the story with a short, powerful hook. You want the reader to question where your story is heading, so they stay engaged and continue reading.
Show don't tell
You've heard it before. Don't just tell the reader; guide them through the inner workings of your mind. Allow them the honor of seeing your thought-process as you've transformed, grown, changed your perspective, and ultimately, acted differently because of it.
Don't explicitly say that you've changed; let the story do that for you. The prompts are meant to expose all of this good stuff, so leave room for it! The last third of the essay should reveal your turning point, your a-ha moments, your reflection. It should leave the admissions officers nodding their heads.
TIP: Read your essay aloud. Listen to others read it aloud. Does it flow? Does it reflect the best of who you are? Is it easily readable and understandable? Is there too much fluff?
Admissions officers read thousands of essays each application season - it is easy to sound like all of the other applicants out there. Start early, take your time, and choose wisely. This is your moment and your story to tell.
Remember: The admissions committee will remember you by your topic, not your name. What do you want them to say about you?
Your Turn
What topic is your homeschooler considering for their college application essay topic? Share in a comment below!
​​​​